Serenade for New York
Mano a Mano: Mexican Culture Without Borders
and RABBITHOLEPROJECTS
Present
Paola Núñez Solorio
|

Serenade for New York
Exhibition Curated by Nyahzul
Opening reception: Thursday, April 4th, 6 - 10pm
Special performances by:
Mariachi Tapatío de Álvaro Paulino
Mariachi Real de México de Ramón Ponce
Exhibition from
April 4 through 26

, 2013

Gallery hours: Tuesday - Saturday 12-5pm and by appointment

Please visit RabbitHole's Online Gallery to view Paola Núñez Solorio "Serenade For New York" at: rabbitholeprojects.bigcartel.com
Closing Reception: Wednesday, April 24th, 6-10pm
Rabbithole Projects
33 Washington Street
Brooklyn, NY 11201
About the exhibition
Mariachi is a fundamental element of traditional Mexican culture, a vehicle for the transmission of heritage and history from one generation to another. Traditional Mariachi ensembles include guitars, trumpets, violins, vihuelas, "guitarrones" (bass guitars), and sometimes a harp. Mariachis may have four or more musicians wearing charro suits elaborately decorated with silver or gold buttons and embroidered designs.
This project aims to share, preserve, and honor Mexican culture and the people invested in keeping their traditions alive. No culture can subsist without people passing on their legacy to younger generations, a tall order for immigrants in particular.
Mariachi musicians in New York have chosen a way of life that represents and identifies the Mexican community through its music.
Mariachi in New York
Visit this link to see a gallery of some of the images recently published in The New York Times
About Paola Núñez Solorio
Paola Núñez Solorio graduated from the International Center of Photography (ICP) in 2010. Since 2005 she has been widely exhibited in the United States and Mexico. She has the been the recipient of several international photography awards, such as 2nd Prize at the Julia Margaret Cameron Award, Silver Medal at the Prix de la Photographie Paris 2011, finalist at Exposure, finalist at Havana Times, and finalist at the National Geographic-PDN World in Focus Contest. Her work has been published in the New York Times, Cuartoscuro, PDN, Popular Mechanics, Havana Times, and One Life Photo Book, as well as in web portals worldwide.
About Rabbithole
Located on the waterfront of the Dumbo art district in Brooklyn, RABBITHOLE is a contemporary art space. Since 2006, the gallery has exhibited works by emerging and mid-career artists, presenting over 60 group and solo shows as a participant gallery in Dumbo's First Thursday series of art walks. The space operates as a project room, providing artists a forum for showing new works and works-in-progress, and hosts a series of special events, from movie screenings, readings, yoga classes and the Brooklyn Creative program of artist workshops.
Exhibition from
April 4 through 26

, 2013
Gallery hours: Tuesday - Saturday 12-5pm and by appointment

How to get there:

Subway:

Take the
to York Street. Walk west on York St toward Jay St. Turn right onto Washington St.
Take the
or
to High Street. Head southeast toward Cadman Plaza W/Old Fulton St. Turn left onto Cadman Plaza W/Old Fulton St. Turn right at Middagh St. Turn left onto Cadman Plaza W/Old Fulton St. Turn right onto Prospect St. Turn left onto Washington St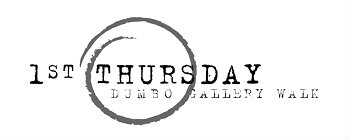 Support for the exhibition Serenade to New York is provided, in part by, Cantina Royal, Colgate, Genesis Beverage Brands, Rabbit Hole Projects, and public funds from the New York City Department of Cultural Affairs, in partnership with the City Council.
Support for Mano a Mano: Mexican Culture Without Borders is provided, in part by, Union Square Awards, a Project of the Tides Center; the New York State Council on the Arts with the support of Governor Andrew Cuomo and the New York State Legislature.
Share this program with your networks!